Here's a simple DIY guide in making your very own Chalkboard Wall Calendar to add a bit of personailty and jazz to your space. As messy as it might be and as unoften as you might actually use it, a chalkboard will always add that nostalgic spunk into any space. In fact, go get a few cans and go crazy with it. I've seen some great chalkboard tables (or here), vases, globes, shirts, wine bottles, and now this wall.
The DIY guide and other chalk product pics after the jump.
via marthastewart
.
.
.

Wall Calendar
A home office is the ideal spot for a family planner. Six weeks' worth of squares in a variety of shades can accommodate several schedules. The entire wall is also coated with chalkboard paint for more memos. Start with a base coat of store-bought black chalkboard paint, and then mix in varying amounts of white chalkboard paint for lighter squares.
Wall Calendar: How-To
We chose 4 shades of paint to make our calendar. You can use as few as 2 shades for a checkerboard pattern.
1. Paint entire wall with store-bought black chalkboard paint (A); let dry for 1 to 2 hours.
2. Mark the perimeter of the calendar with a pencil (to accommodate 8-inch squares, ours measured 48 inches high by 56 inches across).
3. Using painters' tape, mark off the B squares according to the diagram below.
4. Make B paint by mixing 4 parts black chalkboard paint with 1 part homemade white chalkboard paint. Paint B squares. Remove tape. Let dry about an hour.
5. Repeat process for C and D squares using the proportions pictured above.


Below are pics of some of the other Chalkbaord objects I'm aware of.

the globe!

The tables!


and the cool shirt!(has a pocket for the chalk)

the vase!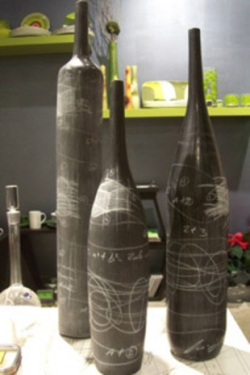 wine bottles, or some type of bottle that I've never seen.